From 2 to 5 of November, EUBIA, together with its board Member ETA Florence, travelled to China in order to meet its first Chinese Member and to start a set of intensive cooperation activities aimed to support the Biomass Development in the country.
The intensive programme defined for of EUBIA biomass experts in Bejing included the conference presentations, CECEP member offices visit, institutional and face to face meetings.
Contribution to the SINO-EU Biogas Summit
Mr. Giuliano Grassi and Mr Andrea Salimbeni participated to the SINO-EU biogas summit, organized by the China Petroleum University, in cooperation with ETA Florence and with EUBIA new Chinese member CPCEP. Mr. Salimbeni provided a presentation on Biogas state of development in Europe, and Mr. Grassi, EUBIA Secretary General, provided an overview on biogas economic perspectives and attractiveness for investors.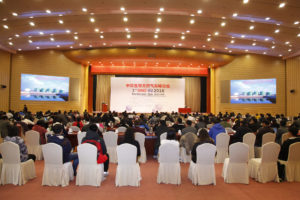 Signature of Memorandum of Understanding with China Investment Association
On the 4th November 2016, Mr Giuliano Grassi, EUBIA General Secretary,  signed a Cooperation agreement, on behalf of EUBIA,  with Mr. Qinglin Zhang, Director General of the Chinese Investment Association Energy conservation and Environment Protection Centre. According to the signed agreement, EUBIA will support the association in the development of new initiatives based on advanced technologies to valorise renewable resources in the country.
This cooperation is going to be exciting and intensive. Therefore, it will help EUBIA enlarge its operational activity and to dedicate significant efforts to involve European industries in new EU-China projects
Meeting and visit to CECEP Facility in Beijing
Last but not least, EUBIA team and ETA Florence had the occasion to visit the headquarter of CPCEP company, the new member of EUBIA. CPCEP team hosted in its offices a meeting where the Chinese company explained their rapid growth in the sector of coal fired power plants cleaning and presented their new programme focused on bioenergy promotion in China.
Several initiatives have been discussed by the participants during a very intensive meeting, which ended with a wonderful dinner in the beautiful Chinese capital.
Travelling back to Europe
After 5 intensive days, EUBIA Chinese delegation returned to Europe with a full cooperation programme which is already ongoing. The need for renewable and clean energy sources, but also for a smart residues valorisation strategy in China represents the reason and the core aspect of the new EUBIA-China cooperation initiative.
Europe holds the most advanced technologies and strategies for the valorisation and upgrading of any type of organic material. The work performed so far by the international consortium of European co-founded projects must be exploited in the name of a cleaner future. In Europe or abroad.
The role of a European Industry Association, is to foster a sustainable development of European excellence. In Europe… and worldwide.
http://www.eubia.org/cms/wp-content/uploads/2016/12/SINO1.png
357
603
admin
http://www.eubia.org/cms/wp-content/uploads/2016/12/EUBIA_LOGO-2.png
admin
2016-12-05 15:14:19
2017-02-07 13:21:45
EUBIA opens the door to Chinese biomass sector