Biomass resources assessments
Biomass resources and potential are considerable. Estimations vary according to the calculation methodology and the assumptions made (e.g. land use patterns for food production, agricultural management systems, wood demand evolution, production technologies used, natural forest growth etc). It is also common to distinguish several potentials:
Theoretical potential: the theoretical maximum potential is limited by factors such as the physical or biological barriers that cannot be altered given the current state of science.
Technical potential: the potential that is limited by the technology used and the natural circumstances.
Economic potential: the technical potential that can be produced at economically profitable levels.
Ecological potential: the potential that takes into account ecological criteria, e.g. loss of biodiversity or soil erosion.
World bioenergy potential
Bioenergy could in principle provide all the world's energy requirements, but its real technical and economic potential is much lower. The WEC Survey of Energy Resources (2001) estimates that bioenergy could theoretically provide 2900 EJ/y, but that technical and economic factors limit its current practical potential to just 270 EJ/y.
The table below shows the potential and current use of bioenergy by region. Even with the current resource base, it is clear that the practical potential of bioenergy is much greater than its current exploitation. Obstacles to greater use of bioenergy include poor matching between demand and resources, and high costs compared to other energy sources. Projections by the WEC, WEA and IPCC estimate that by 2050 bioenergy could supply a maximum of 250–450 EJ/y, representing around a quarter of global final energy demand. This is consistent with the table below, which puts the technological potential of bioenergy at 30% of global energy demand.
To top
Current technical potentials and biomass use compared to primary energy consumption (PEC) from fossil fuels & hydro
PEC fossil fuels + hydro

Bioenergy use

Bioenergy potential

Use / potential

Use / PEC

Potential / PEC

(EJ/year)

%

North-America

104.3

3.1

19.9

16%

3%

19%

Latin-America & Caribbean

15.1

2.6

21.5

12%

17%

142%

Asia *

96.8

23.2

21.4

108%

24%

22%

Africa

11

8.3

21.4

39%

75%

195%

Europe

74.8

2

8.9

22%

3%

12%

Former USSR

37.5

0.5

10

5%

1%

27%

Total

339.5

39.7

103.1

39%

12%

30%
* In Asia the actual use of biomass is higher than the potential. The value for potential and actual use refer to sustainable use, indicating that in the case of Asia the actual use is not sustainable, i.e. it can not be sustained over a long period, due to e.g. limited land availability
Source: Kaltschmitt, 2001
Source: Kaltschmitt, 2001
Estimation of global conventional and biomass resources
Energy category

Million toe

EJ

Oil statistics (ENI, 2003-2004)

Annual oil extraction

3850

161.2

World oil reserves

149600

6263.5

World energy statistics (IEA, 2003)

World annual primary energy supply

10376

434.4

– Oil

3715

155.5

– Coal

2379

99.6

– Natural gas

2169

90.8

– Renewables & Waste

1121

46.9

– Nuclear

695

29.1

– Hydro

228

9.5

– Other (includes geothermal, solar, wind, etc.)

52

2.2

EUROSTAT, EU-25 Energy statistics (2002)

Annual gross inland consumption (GIC)

1680

70.3

Share of renewable energy sources in GIC

95

4.0

Share of bioenergy in GIC

62

2.6

EU-25 (+Bulgaria, +Romania) biomass available potential (BTG, 2004)

Biomass available potential by 2010

183

7.7

Biomass available potential by 2020

210

8.8

EUBIA

2020 biomass potential in the EU-25

200

8.4

2050 biomass potential in the EU-25

400

16.7

EU-25 forest biomass, crop residues and energy crops (Ericsson, Nilsson, 2004)

Scenario 1 (short term, 10-20 years)

105

4.4

Scenario 2a (medium term, 20-40 years; low harvest)

184

7.7

Scenario 2b(medium term, 20-40 years; high harvest)

220

9.2

Scenario 3a (long term, >40 years; low harvest)

375

15.7

Scenario 3b (long term, >40 years; high harvest)

451

18.9

World bioenergy potential from forestry by 2050 (Smeets et al., 2004)

Low demand

764

32.0

Medium demand

1027

43.0

High demand

1242

52.0

Bioenergy technical production potentials from agricultural residues and bioenergy production on surplus agricultural lands to 2050 (Smeets et al., 2004)

World min.

6520

273.0

World max.

35134

1471.0

West Europe min.

191

8.0

West Europe max.

597

25.0

East Europe min.

96

4.0

East Europe max.

693

29.0
Bioenergy Production Potential 2050
Click to enlarge the graph below to see the sustainable bioenergy production potential for the worlds regions under four scenarios by 2050.
This projection looks at the explicitly sustainable potential of bioenergy production, that is, the production of biofuels after all food, fuel, fiber and fodder needs for local populations and livestock are satisfied and without deforestation. It shows that in Africa bioenergy production may reach 350 EJy/ (exajoules/yr) under a high-tech scenario by 2050 (scenario 4), when populations have increased considerably. From the graph, of all global regions, Africa ranks first when it comes to the long-term sustainable bioenergy production potential.
Source of graph: E. Smeets, A. Faaij, I. Lewandowski (2004). A quickscan of global bio-energy potentials to 2050: analysis of the regional availability of biomass resources for export in relation to underlying factors, Copernicus Institute – Utrecht Universit.
(click to enlarge)
Scenario

1

2

3

4

Level of technology for crop production

Very high

Water supply for agriculture (rain-fed = RF, irrigated = IRR)

RF

RF / IRR

Animal production system used (pastoral, mixed, landless)

mixed

landless

Animal feed conversion efficiency

High
Bioenergy potential in the EU
EUBIA considers that the EU-27 technical potential would reach 200 Mtoe/year (8.4 EJ/year) in the short term (2020), doubling to 400 Mtoe/year by 2050. A recent study (BTG, 2004) found, for the EU-25 + Romania and Bulgaria, a 2020 availability potential for biofuels of 210 Mtoe/year. Detailed results by sector are given in the table below. These overall figures should be regarded as indicative; an inaccuracy in the range of ±10% is the result of assumptions on land use for energy crops.
Availability of bioenergy in Europe in 2000, 2010 and 2020 (Mtoe/yr)
EU-15

10 NMS + BG, RO

2000

2010

2020

2000

2010

2020

Tradables:

86

93

101

21

22

24

Forestry by products & (refined) wood fuels

34

38

42

7.9

8.7

9.6

Solid agricultural residues

25

28

31

7.3

8.1

8.9

Solid industrial residues

11

12

13

2.1

2.4

2.6

Solid energy crops*

16

16

16

3.2

3.2

3.2

Non-tradeables:

40

53

66

7.1

9.4

13

Wet manure

11

12

13

3.4

3.8

4.2

Organic waste

– Biodegradable municipal waste

6.7

17

28

0.5

2.5

5.7

– Demolition wood

5.3

5.8

6.4

0.6

0.6

0.7

– Dry manure

1.9

2

2.3

0.4

0.4

0.5

– Black liquor

9.9

11

12

0.7

0.8

0.9

Sewage gas

1.7

1.9

2.1

0.4

0.4

0.5

Landfill gas

4.0

3.8

2.1

1.1

0.9

0.4

Transport fuels

4.9

4.9

4.9

0.8

0.8

0.8

Bio-ethanol*

3.7

3.7

3.7

0.5

0.5

0.5

Bio-diesel*

1.2

1.2

1.2

0.3

0.3

0.3

Total bio-energy

131

151

172

28

32

38
*: It is assumed that 50% of the set-aside area is available for solid energy crops and 25% each for liquid bio-fuel (bio-ethanol and biodiesel) crops
Source: BTG, 2004
Note the growth in the availability of organic wastes, which results from the EU implementation of the EC directive on the landfill of waste (1999/31/EC). This directive discourages the landfilling of biodegradable waste and prescribes a time schedule to reduce this waste disposal to a specific level.
To top
Trade of biofuels
The most critical non-technical barrier to bioenergy is likely to be the availability of resources to ensure long-term supply at a reasonable cost for the market users. This has led to the development of European and international trade of solid biomass fuels in recent years and this supply chain is bound to increase and become an important element in the development of bioenergy on a global scale.
Biofuels are usually produced and used locally. In more recent years, this pattern has changed in northern Europe due to industrial and large scale uses (e.g. in district heating systems) of different forms of biofuels. Today, solid biofuels like wood residues, pellets and wood chips are traded in Europe and have reached a level of almost 50 PJ/a. In some countries, there is a growing interest in the international biomass trade, because the trade can provide biofuels at lower prices. The largest volumes of biomass are traded from the Baltic countries (Estonia, Latvia, Lithuania) to the Nordic countries (especially Sweden and Denmark, but also Finland). Some volumes are also traded from Finland to other Nordic countries, and between neighbouring countries in Central Europe, especially the Netherlands, Germany, Austria, Slovenia and Italy. The traded biofuel is most often of refined wood fuels (pellets and briquettes) and industrial by-products (sawdust, chips), in Central Europe also wood waste.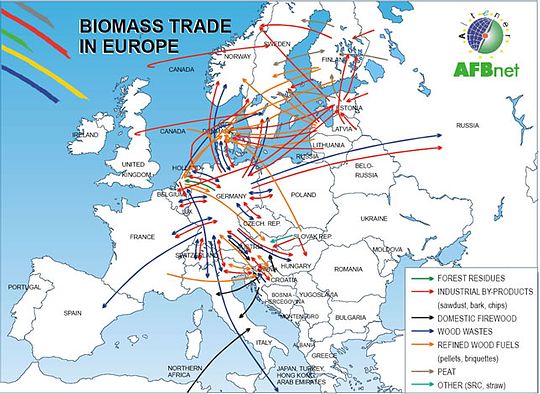 Source: Alakangas et. al., 2002 (click to enlarge)
Bio-ethanol has also become a global commodity. Since May 2004, futures in bioethanol are traded at the New York stock exchange.
Land availability for fuel crops in Europe is limited. From the current 6 million ha of set aside in the EU-15, approximately 7 Mtoe of RME could be produced, or 8.5 – 16 Mtoe of bio-ethanol (respectively from wheat or sugar beet). This corresponds to 2.1 – 4.7% of the fuel used for transport (338 Mtoe in 2002). Brasil could have a production potential in the region of 100 Mtoe/year by 2020 Therefore, biofuels use in the EU (in the transport sector in particular) is likely to be supported by global trade. From that perspective, tropical countries are the most interesting stakeholders in biofuels due to their favourable production conditions. Moreover, their experience (e.g. Brasil) can be instrumental for biofuel development in the European context.