17 partners from six European countries attended the Kick-Off Meeting of VALUEWASTE organised by project coordinator CETENMA in Cartagena, Spain on the 20th – 21st of November.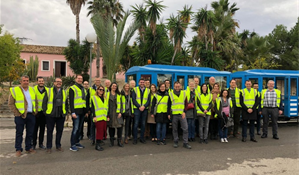 VALUWASTE is an EU H2020 funded project aiming to develop an integrated approach in valorizing urban biowaste as a raw material to produce high-value biobased products such as food and feed proteins, and biofertilizers.
On 21st of November 2018, the project partners visited the urban waste treatment facility in Canada Hermosa – Murcia, where the demo treatment plant of VALUEWASTE project is going to be located. The Canada Hermosa treatment plant represents an important recycling centre in EU due to the amount of organic, industrial, electronic residues treated, generated in Murcia. The plant managed by Cespa – Ferrovial services subsidiary, applies the most advanced technology to a fully automated waste treatment process.
VALUEWASTE will be developed simultaneously in two pilot cities Murcia (ES) and Kalundborg (DK) with the purpose of finding a solution both technically and socially adapted to the different socio-economic contexts exiting across EU. A novelty of the project consists on studying social acceptance on urban biowaste derived products with the aim to increase citizens' awareness on the topic through campaigns and cooking classes.
The meeting concluded with a welcoming reception at Murcia City Council with the participation of Major José Ballesta, a firm supporter of the necessity to swift citizens' behavior towards municipal waste reduction and valorization in Europe.

This project has received funding from the European Union's Horizon 2020 research and innovation programme under Grant Agreement No 818312.