HINICIO
Hinicio is a Brussels-based management consultancy specialized in renewable energy ( biomass, solar, and wind energy), hydrogen and fuel cells.
www.hinicio.com
B2B Renewable Energies
The leading horizontal business-to-business portal in the renewable energy sector promotes new opportunities in sales, supply co-operation and investment for RE technologies.
http://www.b2brenenergy.com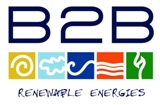 BioMatNet
This site makes available results of RTD projects supported by the European Commission in the area of Biological Materials for Non-Food Products (Renewable Bioproducts)
http://www.biomatnet.org/
CADDET
CADDET stands for Centre for Analysis and Dissemination of Demonstrated Energy Technologies. It is an international information source that helps managers, engineers, architects and researchers find out about renewable energy and energy-saving technologies that have worked in other countries.
http://www.caddet.org/index.php
EECI-network
The goal of this European Energy Crops Inter-Network is therefore to provide all relevant parties up-to-date information on energy crops in Europe by easy access to the network databases, continuously up-dating of the information and stimulation of active communication by the discussion forum.
http://www.eeci.net/
AD-Nett
The European Anaerobic Digestion Network aims at disseminating information and providing contact to interested parties. It includes news on developments in the network and information about technical developments on anaerobic digestion of agro-industrial waste.
http://www.adnett.org/
PyNe
The Biomass Pyrolysis Network (PyNe) is a global network of active researchers and developers of fast pyrolysis. It has been established to discuss and exchange information on scientific and technological developments on pyrolysis and related technologies for the production of liquid fuels, electricity and chemicals.
http://www.pyne.co.uk/
EUBIONET II
European bioenergy network will analyse current and future biomass fuel market trends and biomass fuel prices.
http://www.afbnet.vtt.fi/
BIOENERGY NoEThe Bioenergy Network of Excellence (NoE) integrates the activities and expertise of eight leading bioenergy institutes into a R&D Centre which aims to foster the development of a competitive bioenergy market in Europe.
OPET Network
The Organisations for the Promotion of Energy Technologies (OPET) Network has embarked upon a new and challenging series of activities, aimed at promoting public awareness of current energy research results.
http://www.cordis.lu/opet/home.html
www.opet-network.net
European Associations
AEBIOM
AEBIOM, the European Biomass Association, is a group of national biomass associations with membership open to representatives of the European Union.
http://www.aebiom.org/

EREC
EREC, the European Renewable Energy Council, is an umbrella organisation of the leading European renewable energy industry and research associations active in the sectors of photovoltaic, wind, small hydropower, biomass and solar thermal.
http://www.erec.org
EUFORES
EUFORES, the European Forum for Renewable Energy Sources, is an independent, non-profit making organisation that aims to promote the use of renewable energy. EUFORES was established to pursue the target outlined in the 1994 "Declaration of Madrid" – a 15% substitution of conventional primary energy demand by renewable energy sources by 2010.
http://www.eufores.org/
EUREC
EUREC Agency strengthens and rationalizes the European RD&D efforts on renewable energy technologies. As an independent association, it groups about 40 RD&D groups.
COPA-COGECA
COPA, is the Committee of Professional Agricultural Organisations in the European Union, and COGECA, is the General Confederation of Agricultural Co-operatives in the European Union.
http://www.copa-cogeca.be

eBIO
eBio, the European Bioethanol Fuel Association, represents a broad cross-section of businesses dedicated to the expansion of the European bioethanol fuel industry.
http://www.ebio.org/
EBB
EBB, the European Biodiesel Board, groups together major biodiesel producers and promotes the use of biodiesel in the EU.
EuropaBio
EuropaBio, the European Association for Bioindustries, is the political voice of the biotechnology industry in Europe.
http://www.europabio.org

World Council for Renewable Energy (WCRE)
The WCRE aims at communicating the urgent and global need for Renewable Energies and their availability for all energy demands.
http://www.wcre.de/
Project Links
DG-TREN
European Directorate-General for Energy and Transport
http://europa.eu.int/comm/dgs/energy_transport/index_en.html
Energy section of DG-TREN:
http://europa.eu.int/comm/energy/index_en.html
EU's Energy Portal:
http://www.energy.eu/

Intelligent Energy – Europe
The Intelligent Energy – Europe programme is the EU's tool for funding action to improve market conditions in the EU, for the use of renewable energy and for opportunities to save energy, and move us towards a more energy intelligent Europe.
http://ec.europa.eu/energy/intelligent/index_en.html
ManagEnergy
ManagEnergy promotes co-operation between local and regional energy actors in Europe through workshops, study tours and online events on energy efficiency, renewable energy and sustainable transport.
http://www.managenergy.net/index.html

IEA Bioenergy
IEA Bioenergy is an organisation set up in 1978 by the International Energy Agency (IEA) with the aim of improving cooperation and information exchange between countries that have national programmes in bioenergy research, development and deployment.
http://www.ieabioenergy.com/
EurObserv'ER Barometer
EurObserv'ER is a consortium made of four Europeans organizations devoted to the promotion of renewable energies within the European Union. The Project team is formed by Observ'ER, EUFORES, Eurec Agency, & EREC
http://www.observ-er.org
AGORES
Information centre and knowledge gateway for Renewable Energy Sources, helping to promote the European Union's strategy to achieve 12% of RES by 2010
http://www.agores.org/
ATLAS Project
This web site provides a comprehensive review of technologies relevant to the whole non-nuclear energy field, with the exception of oil and gas, to a time horizon of 2010.  The information presented is intended to provide advice to RTD decision makers at all levels on the priorities and directions for future programmes.
http://europa.eu.int/comm/energy_transport/atlas/home.html
EUBIONET
European bioenergy networks AFBnet (Solid biofuels), Waste for Energy (Biogas) and NTB (Liquid biofuels) were established in 1995 by the European Commission to promote the utilisation of bioenergy in Europe. These networks have been integrated together under the cluster EUBIONET – European bioenergy networks as of the beginning of the year 2002. The major aim is to share knowledge and experience, spread of information, transfer of knowledge and know-how in the bioenergy sector.
http://eubionet.vtt.fi/
European Forest-Based Technology Platform
This platform aims at defining and implementing the sector's R&D roadmap for the future and is supported by a wide range of stakeholders. The Forest-based sector technology platform is an industry-driven process, embedded in industry reality, and supporting the sector's strategy.
http://www.forestplatform.org/
Other Useful Resources
CIRS
International reference of scientific web sites. It is an international scientific organization, created to foster and promote all aspects of science and scientific research. It aims at the largest audience : specialists, researchers, students as well as everyone interested in science.
www.cirs-tm.org/

Saaten Union
Saaten Union is a German plant breeder. For detailed information on plant species and hybrid growing conditions please follow the following link.
www.saaten-union.com
Biomass in the EU 
Proposal of the European Commission of a Renewable Energy Directive, November 2016 which includes updated sustainability criteria for biofuels used in transport and bioliquids, and solid and gaseous biomass fuels. Sustainability reports of the European Commission
https://ec.europa.eu/energy/en/topics/renewable-energy/biomass
World Directory of Renewable Energy
As of May 2005, the World Directory of Renewable Energy http://www.jxj.com/suppands/renenerg/search.php contained more than 2100 references for the criteria "Biomass, biofuels and energy from waste", of which approximately 1400 are located in Europe.
Biomass Normandie
Another useful database has been realised by Biomass Normandie (a French association promoting wood-fuel use and organic waste valorisation), mainly for wood fuel heating systems, with more than 200 references.
http://www.biomasse-normandie.org/wood_fuel_opeur.php3
ITEBE
The Wood Energy Directory is published by the European Professional Association for Wood Energy (ITEBE) with many references especially for wood fuel supply and small scale heating.
http://www.itebe.org/