Biodiesel refers to a group of esterified vegetable oils produced from different oil-containing crops. Biodiesels includes biodiesel (a methyl-ester produced from vegetable or animal oil, of diesel quality), bio-dimethylether, Fischer Tropsh, cold pressed bio-oil and all other liquid biofuels which are added to, blended with or used straight as transport diesel. Modern biodiesel development started in Austria around 1982, with four aims:
to provide a secure supply of liquid transport fuels;
to create an environment-friendly fuel for diesel engines;
to reduce health and safety risks;
to provide customers with a reliable fuel at a reasonable ratio of costs to benefits
Biodiesel Market
The consumption of biodiesel in Europe has experienced an impressive growth during the last years growing in a 57% from 2007 to 2012 although it descend timidly in 2013. Currently, nealy 200 biodiesel plants operational in Europe today, with a production capacity of over 8,5 million tons.  In terms of reported capacity in 2012 the EU reached 23.2 million tons. In global figures, European biodiesel represents 43% of the world's production in 2011 according to the US Energy Information Administration. Despite this success story the consumption and production of Biodiesel has registered a decrease during the lasts years. The economic crisis and the growth of the fuels prize has forced some governments as the Spanish one to reduce the share of biodiesel to be blend with traditional fuels. Moreover, the current debate on the Fuel Quality and Renewable Energies Directives and the possible cap of first generation biofuels have produced much legal insecurity and hindered investors. In June 2014, the Council approved a 7% cap for first generation biofuels to be still supported by the EU Parliament. Equally, massive imports and dumping practices from Argentina and Indonesia have harmed the EU producers.
Source: http://www.longhini.eu
Feedstocks
Biodiesel is produced from vegetable oils, which are derived from the seeds or the pulp of a range of oil-bearing crops. These oil crops can be annual (rapeseed, sunflower, groundnut, soybean) or perennials (oil palms, coconut palms, physica nut, Chinese tallow tree). Oil from the rapeseed was the first type used for biodiesel production. Somewhat by chance, this oil is highly suitable, and it is still the main source of quality biodiesel. Today in Europe, rapeseed is still the main feedstock for biodiesel production. Rapeseed is grown throughout Europe, while sunflower seed crops are grown in the warmer areas only.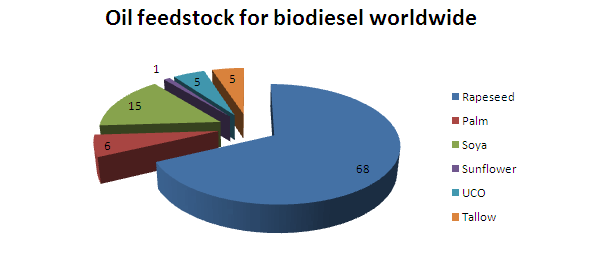 For the production of 1 ton of Rapeseed Methyl Ester (RME), about 2.5 tons of rapeseed are needed, which requires a land area of 0.77 hectares. More precise data are given below according as a function of the region. Biodiesel from rapeseed oil shows good stability and winter performance because the oil contains around 60% mono-unsaturated oleic fatty acids and only around 6% saturated fatty acids. New varieties contain up to 87% mono-unsaturated oleic fatty acids. Over time, many other oils have been used successfully as biodiesel feedstocks. They include sunflower oil in southern France and Italy; soybean oil in the USA; and palm oil (e.g. in Malaysia). Recycled cooking oil can also be used; this technology was commercialised in 1998-99 during a time of high oilseed cost and record-low diesel prices.
Average oilseed yields in the EU-25
| | | | |
| --- | --- | --- | --- |
| | Area | Yield | Production |
| | 1000 ha | 100 kg/ha | 1000 t |
| Rapeseed | 4,114 | 28 | 11,386 |
| Sunflower | 2,180 | 17 | 3,688 |
Source: EUROSTAT (data are average on the 2000-2003 period)
Potential biodiesel yields from rapeseed and sunflower in some of the EU-25 member states
Rapeseed

Sunflower

Litres/ha

toe/ha

Litres/ha

toe/ha

Austria

1055

0.84

113

0.09

Belgium

1360

1.08

–

–

Germany

1327

1.05

1116

0.88

Denmark

1193

0.94

–

–

Greece

–

–

500

0.40

Spain

608

0.48

429

0.34

Finland

540

0.43

–

–

France

1343

1.06

1041

0.82

Ireland

1287

1.02

–

–

Italy

1023

0.81

1156

0.92

The Netherlands

1298

1.03

–

–

Portugal

–

–

340

0.27

Sweden

846

0.67

–

–

United Kingdom

1188

0.94

–

–

Czech Republic

1105

0.88

961

0.76

Estonia

536

0.42

–

–

Hungary

n.a.

n.a

770

0.61

Lithuania

662

0.52

–

–

Latvia

627

0.50

–

–

Poland

923

0.73

–

–

Slovakia

607

0.48

777

0.62
Source: BTG, 2004.
Production process
Biodiesel production begins with pressing the crop, which yields a liquid oil fraction to be converted and a first by-product, oil cake, used as cattle feed. Vegetable oils are extracted from oil seeds by mechanically pressing or extraction with a solvent, like hexane, the latter technology resulting in higher yields.
Vegetable oils can be used directly as diesel engine fuels, but this requires engine modification because some of their properties are less advantageous for this application. Two major problems are their very high viscosity and poor thermal and hydrolytic stability. They also have less favourable ignition qualities.
After filtering the vegetable oil, esterification transform the large branched molecule structure of the oils into smaller, straight chained molecules similar to the standard diesel hydrocarbons.
Three basic routes to producing biodiesel from oils can be distinguished:
1. Base catalysed trans-esterification of the oil,
2. Direct acid catalyzed trans-esterification of the oil,
3. Conversion of the oil to its fatty acids and then to biodiesel. (biodiesel.org)
Most of the biodiesel produced today is done with the base catalysed reaction for several reasons:
    It is a low temperature and pressure process,
    It has a high yield (98%) with minimal side reactions and reaction time,
    It is a direct conversion to biodiesel with no intermediate compounds.
This process takes place in a simple reactor system at low temperature (range 50-66 ºC) and pressure (around 1.4 bars). The first step in conversion process is the mixing of methanol and the catalyst, which is usually sodium hydroxide (caustic soda) or potassium hydroxide (potash). Excess methanol is added to ensure the total conversion of the triglycerides into esters. The catalyst/methanol mixture is fed into a closed reactor vessel, which prevents the loss of alcohol, then the vegetable oil is added to the reactor. The reaction mixture is left to settle in the vessel for 1 to 8 hours.
After being separated from the glycerine, the methyl esters are purified. By means of a washing process, residual catalyst and soaps are removed. The purity of the esters produced in this way amounts to about 98%. This can be improved further by distillation. The end product is an amber-yellow coloured liquid with a strongly reduced viscosity.
As an indication regarding the proportions in the reaction, 100 units of fat or oil (e.g. rapeseed oil) react with 10 units of a short chain alcohol in the presence of a catalyst (usually sodium or potassium hydroxide) to produce 10 units of glycerin and 100 units of biodiesel.
Simplified representation of the biodiesel conversion process from vegetable oil
Fuel properties
Due to their physical and chemical properties, biodiesel fuels are appropriate for combustion in compression-ignition engines (diesel engines).
One important difference is the lower heating value of biodiesel, due to the much higher oxygen content compared to standard diesel. Therefore, a higher volume of biodiesel is required to provide the same global energy output than conventional diesel.
Two other important parameters influence the interaction between biodiesel and the engine: the stability and the viscosity. Viscosity, which is higher for biodiesel than for standard diesel, affects the atomisation of the fuel during injection. Below 0°C, problems also occur with the supply of biodiesel from the tank to the engine and the cold start behaviour of the engine. These problems can be solved by fuel heating or adding additives, such as flow enhancers. Biodegradability is very favourable from the environment perspective, but it also means that the fuel is less stable; thus, storage of FAME requires special attention.

Fuel properties of diesel, rapeseed methyl ester (RME) and soybean methyl ester (SME)
| | | | |
| --- | --- | --- | --- |
| Fuel properties | Diesel | RME | SME |
| Molecular weight [kg/kmol] | 170 – 200 | ~ 300 | ~ 310 |
| Density [kg/l] at 15ºC | 0.84 | 0.88 | 0.87 |
| Oxygen content [wt-%] | 0 – 0.6 | 9 – 11 | 10 – 11 |
| Lower Calorific Value [MJ/kg] at 15ºC | 42.7 | 37.3 | 32 |
| Lower Calorific Value [MJ/l] at 15ºC | 35.7 | 32.8 | |
| Cetane number | 50 | 51 – 58 | 46 – 67 |
| Stoichiometric air/fuel ratio [kg air/kg fuel] | 14.5 | 12.3 | 12.6 |
| Kinematic viscosity [mm2/s] at 20ºC | 4 | 4.5 – 7.4 | – |
| Flash point [ºC] | 77 | 91 – 179 | 110 – 174 |
Applications
Since RME has similar fuel properties compared to diesel, it can be mixed with fossil diesel in any proportion for application in conventional diesel engines. Nevertheless, there is some evidence that FAME attack some plastic materials used for seals, hose, paints and coatings. For this and other reasons, it is generally accepted that mixtures of standard diesel with up to 30% FAME (by volume) can be used in existing diesel engines, but there are concerns about the interaction of higher percentage blends with the components of the fuel injection system. For example, in the case that 100% RME is to be used, a number of relatively minor changes in the engines are required. Car manufacturers often recommend not to apply mixtures in their engines with a proportion of RME higher than, for example, 5%. A reason for this is that the certification level for the engine with regard to NOx emissions can be exceeded when a large proportion RME is used. Moreover, the durability of the engine cannot be guaranteed if the engine is run with any other fuel than the one it is constructed, tested and certified for. Many diesel engine producers are working on an (improved) application of biodiesel.
The present diesel market is completely dominated by fossil fuel. Biodiesel is an environment-friendly fuel with clear and substantial advantages over conventional diesel, but even at full production it could only ever meet around 8% of the diesel market. Market niches should therefore be identified where the distinctive benefits of biodiesel will be best appreciated. Alternatively, biodiesel can simply be blended with fossil diesel, as in France. This approach retains many of the overall advantages of biodiesel, without requiring customers to be aware of what they use.
Economics
According to an ECN study, current production costs of RME amount to approximately 0.50 €/litre (equivalent to 15 €/GJ or 360 €/toe). These costs depend on the prices of the biomass used and the size and type of the production plant. The short-term investment costs for a 400 MWth plant are about 150 €/kWth. On the long term, these costs may decrease by about 30% for a larger-sized plant with a thermal input capacity of 1000 MWth, assuming economies of scale. Other important factors determining the production costs of RME are the yield and value of by-products of the biodiesel production process, such as oil seed cake (a protein rich animal feed) and glycerine (used in the production of soap and as a pharmaceutical medium). Longer-term projections indicate a future decrease in RME production costs by more than 50%, up to approximately 0.20 €/litre (around 6 €/GJ or 250€/toe).
Another study (BTG, 2004) gives some costs at the fuelling station around 0,74 €/litre (22 €/GJ or 930 €/toe), as shown in the table below. In this study, average prices of 233 and 258 €/tonne for rape and sunflower were used.
Average biodiesel production costs in the EU-25
Rapeseed based

Sunflower based

€/L

€/GJ

€/toe

€/L

€/GJ

€/toe

Net feedstock cost

– Feedstock

0.570

16.8

698

0.568

16.7

696

– Co-product credit

0.011

0.3

13

0.011

0.3

13

Subtotal feedstock cost

0.559

16.4

685

0.557

16.4

683

Conversion costs

0.070

2.1

86

0.070

2.1

86

Blending costs (incl. adaptation of gasoline)

0.010

0.3

12

0.010

0.3

12

Distribution costs

0.100

2.9

123

0.100

2.9

123

Total costs at petrol station

0.739

21.7

906

0.737

21.7

903
Production in the EU
Biodiesel production began in Austria in 1988 with a 500 t/y plant owned by a farmers' co-operative. Other plants soon followed, and the first industrial-scale biodiesel plant, with a capacity of 10,000 t/y, started up in Austria in 1991. In the following years larger plants were established all over Europe. Examples are Livorno, Italy (up to 80,000 t/y), Rouen, France or Rotterdam, Netherlands (800,000 t/y).
The European Union is today the principal region in the world having developed the biodiesel sector. Europe produced 9,187,000 tonnes of biodiesel fuel in 2012, representing an average annual increase of 57% over the last 5 years. Even though there is currently a production overcapacity in Europe, numerous new units should be created over the next years to meet the requirements of the European directive on biofuels. The leading European biodiesel producer is Germany, with a production of 2,492,000 tonnes.
The graph below shows the historic data for biodiesel production in Europe.
Evolution of the biodiesel production in the EU-27
Standards and sustainability criteria
Standards are the basis for building customer confidence, obtaining biodiesel warranties from manufacturers of engines and injectors, ensuring reliability and creating a positive image for biodiesel. Historically, biodiesel was seen as a fuel for tractors and other agricultural machinery. As a result, the first engine warranties covering the use of biodiesel were given by manufacturers of tractors and combine harvesters. With the development of more sophisticated marketing strategies, warranties were extended to other diesel vehicles such as buses, taxis, boats and private cars.
Recent years have seen impressive improvements in diesel engine technology to improve energy efficiency and reduce emission levels, driven by the EU Directive on Fuel Quality and the voluntary agreements defined in the Auto Oil programmes. Modern diesel engines achieve their excellent performance through the use of high-pressure precision fuel injection equipment. This requires fuels of correspondingly high quality, regardless of their origin.
European fuel standard EN 14214, which was developed in close co-operation with the automotive, oil and biodiesel industries, ensures that biodiesel is suitable for even the most modern engines. The standard forms the basis for warranties from leading car manufacturers, including Audi, BMW, Daimler-Chrysler, MAN, Seat, Skoda, Volvo and Volkswagen. The latest technical development from vehicle manufacturers is a fuel sensor that measures the ratio of biodiesel to fossil diesel in the tank. By continuously optimising the injection timing to suit the fuel mix, it reduces emissions.


Selected values for some biodiesel standards
| | | | | | |
| --- | --- | --- | --- | --- | --- |
| BioDiesel | Unit | Austrian Standard C1190 Feb. 91 | DIN 51606 Sept 1997 | U.S. Quality Specification NBB/ASTM | Euro Standard EN 14214 |
| Density at 15°C | g/cm3 | 0.86 – 0.90 | 0.875 – 0.90 | / | 0.86 – 0.90 |
| Viscosity at 40°C | mm2/s | 6.5 – 9.0 (20°C) | 3.5 – 5.0 | 1.9 – 6.0 | 3.50 – 5.00 |
| Flash point | °C | min. 55 | min. 110 | min. 100 | min. 120 |
| Cetane number | – | min. 48 | min. 49 | min. 40 | min. 51 |
| Total sulphur | mg/kg | max. 200 | max. 100 | max. 500 | max. 100 |
| Phosphorus content | mg/kg | / | max. 10 | / | max. 10.0 |
| Alkaline content (Na+K) | mg/kg | / | max. 5 | / | max. 5.0 |
| Alkaline earth metals (Ca + Mg) | mg/kg | / | / | / | max. 5.0 |
| Free glycerine | % mass | max. 0.03 | max. 0.02 | max. 0.02 | max. 0.02 |
Source: www.biodiesel-intl.com/standards_e/standards.htm
Moreover, Directives 28/2009/EC establishes sustainability criteria for biofuels in its articles 17, 18 and 19. These criteria are related to greenhouse gas savings, land with high biodiversity value, land with high carbon stock and agro-environmental practices. These apply since December 2010. In order to receive government support or count towards mandatory national renewable energy targets, biofuels used in the EU (wether locally produced or imported) have to comply with sustainability criteria. These criteria aim at preventing the conversion of areas of high carbon stock for the production of raw materials for biofuels. The entire biofuels' production and supply chain has to be sustainable. To this end, the sustainability of biofuels needs to be checked by Member States or through voluntary schemes which have been approved by the European Commission.
R&D
Current developments in the biodiesel sectors include:
    broadening the feedstock options;
    improving process technology through flexibility in processing multi-feedstocks (MFS) at high yields;
    developing sophisticated standards for assuring fuel quality;
    establishing biodiesel production in many countries all over the world;
    intelligent product positioning in defined fuel market segments;
    obtaining biodiesel warranties from diesel engine manufacturers;
    implementing supportive legal measures and voluntary regulations. (Risoe)
More information about biodiesel
The National Biodiesel Board http://www.biodiesel.org
or the European Biodiesel Board www.ebb-eu.org