Energies – Open Access Journal
Energies (ISSN 1996-1073; CODEN: ENERGA), is an open access journal of related scientific research, technology development, engineering, and the studies in policy and management and is published monthly online by MDPI. Since its launch in 2008, the journal has been indexed by the Science Citation Index Expanded (Web of Science), Ei Compendex, Scopus and other databases. The latest Impact Factor for 2017 is 2.676. A first decision is provided to authors within 15 days after submission; acceptance to publication is undertaken in 6 days (median values for papers published in this journal in 2018).
Learn more about Energies at: https://www.mdpi.com/journal/energies
Bioenergy Insight
Bioenergy Insight is a bi-monthly publication targeted at companies producing biomass fuel in the form of pellets and briquettes, and those using biomass fuel to produce CHP, biogas, biopower, chemicals, heat and liquid biofuels.
Brought to you by the publishers of Biofuels International magazine, Bioenergy Insight is a publication targeted at companies producing biomass fuel in the form of pellets and briquettes, and those using biomass fuel to produce CHP, biogas, biopower, chemicals, heat and liquid biofuels. – See more at: http://bioenergy-news.com/#sthash.FZzZdaRE.dpuf
BE-Sustainable Magazine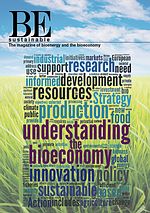 We are pleased to announce the launch of BE-Sustainable, a new magazine about bioenergy and bioeconomy published by ETA-Florence Renewable Energies. To browse the free online readable version you have to register on www.besustainablemagazine.com.
The acknowledged importance of bioenergy in the current and future energy scenario, as well as the emerging role of bio-based economy are fuelling a global and lively debate on the challenges and the opportunities offered by the use of biomass resources for the transition to a low carbon economy.
This publication is an effort to contribute to this debate by bringing as much science and fact-based content to a wide audience of readers, inside and outside the biomass community, as well as to provide a platform for the exchange of knowledge and to go ahead with progress and development of a sustainable biomass sector.
We hope you appreciate this effort and we look forward to publishing the next issue soon. We like to see this venture as a learning-by-doing process, therefore your feedback is essential for us!
We welcome your comments, suggestions and editorial ideas at  editorial@besustainablemagazine.com or visit the new magazine website www.besustainablemagazine.com.
Biomass Magazine
Biomass Magazine is a monthly trade publication tailored to serve companies and organizations engaged in producing and/or utilizing biomass.
Biofuel Cities Quarterly
With a different focus each issue, Biofuel Cities Quarterly is a print newsletter that keeps you informed about key technology and policy developments related to the application of biofuels in Europe. Download it or subscribe online at www.biofuel-cities.eu/index.php?id=5032.
The Biofuel Cities Quarterly is a newsletter of the Co-ordination Action Biofuel Cities European Partnership. The Biofuel Cities European Partnership is a forum for the application of biofuels. Open to all stakeholders in the area of biofuels for vehicles, it offers access to the information and exchange portal  www.biofuel-cities.eu; workshops and study tours; news, resources, project activities, publications and tools. To join or find out more visit www.biofuel-cities.eu  or e-mail to secretariat@biofuel- cities.eu.
UNESCO: Sustaining the Earth – Le respect de la Terre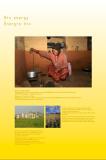 Sustaining the Earth is part of an exhibition by UNESCO entitled  "Planet Earth: from Space to Place". The exhibition at UNESCO (16 October to 3 November 2007) displays films, photographs, emblematic objects and distinctive plants from different regions testifying to the Planet's diversity, and highlights UNESCO's activities in connection with sustainable development and climate change. It shows how the natural, social and human sciences, culture, education, communication and information work together towards a common goal.
It is structured around five themes: the Earth System, the Dynamic Earth, the Diverse Earth, the Changing Earth and Sustaining the Earth. The Earth System focuses on geosciences, terrestrial and marine ecosystems, cultural and human aspects; Dynamic Earth presents the earth's movements earth-earthquakes, volcanoes, landslides, floods, tsunamis, natural disasters and their mitigation; Diverse Earth explores the links between biodiversity and cultural diversity; Changing Earth sounds the alarm regarding human impact and its consequences. The exhibition finally highlights international initiatives geared towards Sustaining the Earth including the Decade of Education for Sustainable Development, Man and the Biosphere Programme, and programmes concerning renewable energy, ethics and youth.
Sustaining the Earth features photo credits from EUBIA and it is available to download here.