European Biomass Research Network

An Initiative promoted by EUBIA
EUBREN, the European Biomass Research Network is an initiative developed by EUBIA which consists of a selection of Universities and Research centers from the 28 European Union countries. The initiative is the result of several year of experience in which EUBIA dedicated its efforts to promote and support new industry oriented initiatives in cooperatin with investors, small and large private enterprises, etc. As Biomass is the only existing renewable carbon based source, biobased industry is the most flexible in terms of technology, strategy, products and future perspectives. Given the unique capacity of this sector, research activities carried out at every level of the technology demonstrated to have a crucial role for the final takeoff of a biobased economy at sufficient readiness to be commercialized. EUBIA identified the leading universities operating in the biomass sectors as candidates for representing their country in the European Biomass Research Network.
To know more on EUBREN, visit www.eubren.com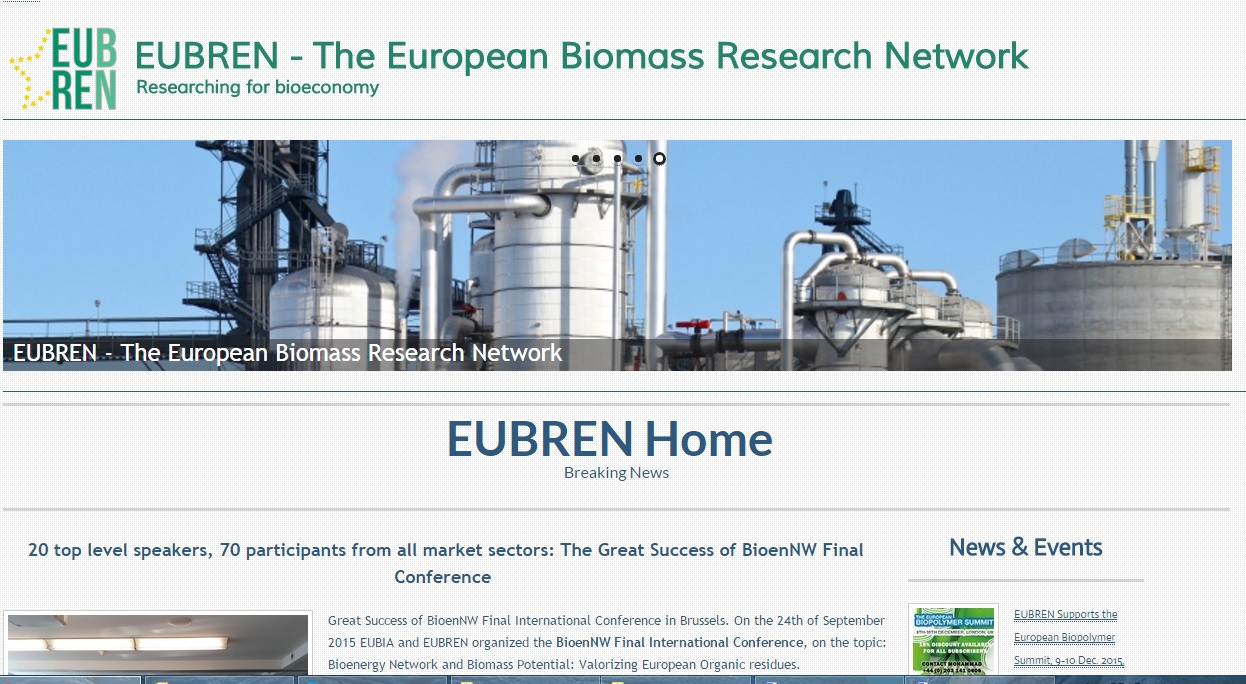 EUBREN will actively work on new "Research-for-industry" projects focused on the development of advanced technologies and strategies. New initiatives, activities promoted by EUBREN will be of interest for industry and should be oriented on an improvement of biobased products and bioenergy competitiveness in the European Market.  After the definition of all 28 founding members, a board will be defined by electing 7 representatives. EUBREN board members will be asked to participate to meetings organized by EUBIA in its Brussels office.  During board meetings, new EC proposals, strategies, commercial initiatives and next target sectors will be discussed. EUBIA board of director will participate at the meeting providing material and new specific project proposal involving SME and Universities.
Every one year, a general Assembly will be organized at EUBIA office to summarize the work done and set the basis for future initiatives. EU-BREN activities, material information and communication services will be secured by a Web Platform developed and managed by EUBIA. The EUBREN platform will be consisting by:
-Home page with articles, latest development in terms of technologies and EU policy assessment information
-Relevant news and events
-Contacts page
-Document archive
COMBINING BENEFITS FOR SMEs AND UNIVERSITIES
Benefits for EUBIA and  industries network
1.       Develop new ideas and strategies
2.       Receive feedback on new patents of industrial use,
3.       Develop advanced technologies,
4.       Involve RTDs in EC project
Benefits for Universities and Research Centers
1.       Participate as partners in new EU co-financed projects
2.       Placement opportunities for university students in EU biomass industries
3.       Participate in new large scale international and commercial projects
4.       To be constantly updated on EU policy framework,
5.       Cooperate in new programmes, initiatives and strategies developed by the European Biomass Industry Association
6.       Cooperate together with other European Universities
     More information on EUBREN objectives and structure available here
Universities and research centres which receive this email have been selected by EUBIA as candidate founding member of EUBREN.
In order to be awarded as Institution representative of its Country, each candidate is asked to fill in the attached application form where to report information regarding its background and experience in the biomass sector, reporting the most relevant publications, initiatives, international and national projects and new technologies developed. After the final evaluation step, the 28 selected Universities/Research centres will become founding members of EUBREN. Furthermore, given the importance of this EU level initiative, all the 28 new EUBREN members will be automatically awarded as full members of the European Biomass Industry Association. EUBIA board of directors has decided to support the launch of the network by offering the  28 selected Universities to join EUBIA membership without any additional fee.
The annual EUBREN membership fee consists of a symbolic payment of 500 €. This amount has been calculated considering all EUBREN services which will be provided by EUBIA, including
meetings and events organization at EUBIA office in Brussels
dedicated EUBIA staff for EUBREN web platform management,
continuous information services and publications,
periodic communication activities.
EUBIA will offer support and consultancy for Horizon 2020 projects proposal writing, administration and dissemination activities organization.
Download the EUBREN application form